<!########################################MAIN PAGE BODY CONTENT-->
Our Royal Charter
The Royal Charter from Her Majesty Queen Elizabeth II was granted to the Worshipful Company of Firefighters on 11th December 2013 and presented by the Right Honourable The Lord Mayor of the City of London, Alderman Alan Yarrow on Friday 27th February 2015 at the Insurance Hall, Aldermanbury in the City of London.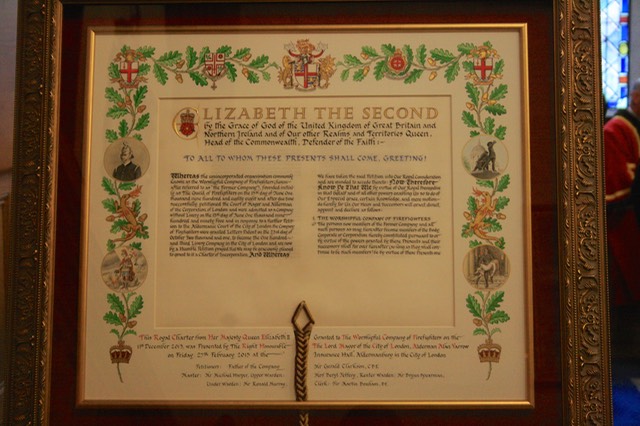 A royal charter is a formal document issued by a monarch as letters patent, granting a right or power to an individual or a body corporate. They were, and are still, used to establish significant organisations such as cities (with municipal charters) or universities. Charters should be distinguished from warrants and letters of appointment, as they have perpetual effect. Typically, a Royal Charter is produced as a high-quality work of calligraphy on vellum. The British monarchy has issued over 980 royal charters. Of these about 750 remain in existence. The earliest was to the town of Tain in 1066, making it the oldest Royal Burgh in Scotland, followed by the University of Cambridge in 1231. Charters continue to be issued by the British Crown, a recent example being the Worshipful Company of Firefighters which received its charter on 11 December 2013.
At one time, a royal charter was the sole means by which an incorporated body could be formed, but other means (such as the registration process for limited companies) are generally used nowadays instead.
A List of organisations in the United Kingdom with a Royal Charter